World Script Symposia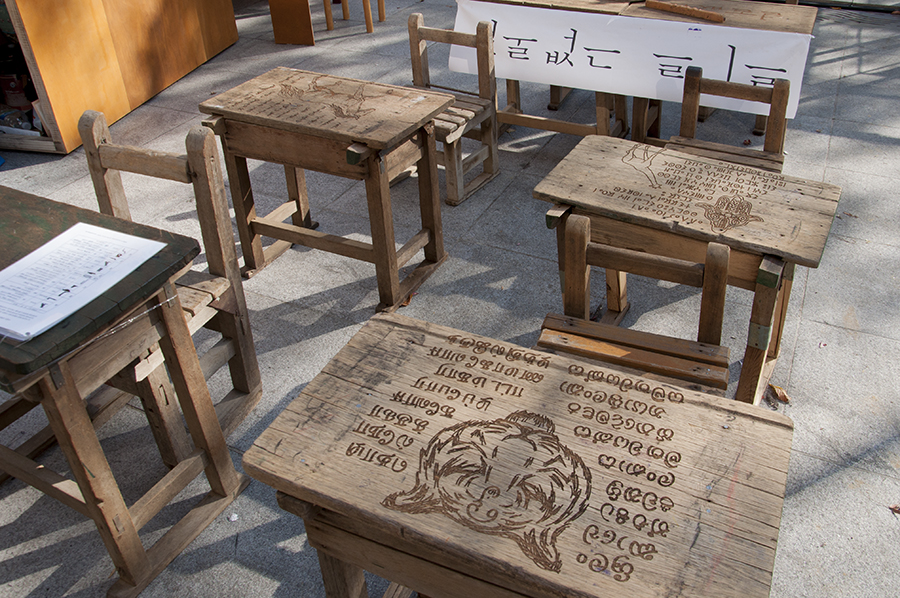 World Script Symposia
World Script Symposia 2014 : Taste Scripts
Title : Rubbing Table
Artists Name : Minha LEE + Heewoo JEONG
Period : October 24 (Fri.) to November 2 (Sun.), 2014 (10days)
Venue : Outdoors of Sejong Center, Seoul, Korea
Material : 8 Old wood table and chair sets, Syriac, Mongolian, Tifinagh, Tamil, Hangul, Korean paper, Stamps of Hieroglyph, Papyrus, Ink-stick, Crayon etc.
Size : Dimension Variable
The four languages included in this project – Syriac, Mongolian, Tifinagh, and Tamil – differ from the Korean language in terms of the style and direction in which they are written. The different writing systems, which are read from left to right or from top to bottom, have been brought together to create a single shape. This new shape could be seen as a collection of letters or images, and it leads us to imagine the regions in which these writing systems are used. This experiential work allows us to make rubbed copies of the image on the table of our choice.
World Script Symposia 2014
Organized by The organizing Committee for World Script Symposia, The World Script Institute, Sejong Center, Jong-ro Gu
Sponsored by Ministry of Culture, Sports and Tourism, Ministry of Foreign Affairs, Seoul-City, KBS
Introduction
The World Script Institute, established in Seoul, strives for the awareness of the disappearing writing systems. We believe that each writing system holds its genuine value, and each speaker should try to strengthen that value. We especially see the importance of people using their languages for academic, and scholastic purpose. While increasing pride in the value of our native languages, we want to emphasize respect for other languages' importance as well.
The festival is based on the theme of 'Diversity of World's Writing Systems", and on the ideals of the World Script Institute. The event has two parts: academic conferences and a festival. The festival will be held on October 24th to November 2nd in Downtown Seoul.
1) Opening reception
24(FRI) Oct. 2014 at 5:30 p.m. @special stage "Tteurak" in Sejong Center
-The opening declaration, Keynote Address, dance performance, Scripts media artwork.
2) Art Program
- "Talk Scripts" Talking about Scripts with celebrities at 12:30 p.m. – 1:30 p.m.
- The World Script Infographic Project: "Draw Scripts" – Nine different infographic artworks on display at outdoor gallery.
- "Taste Scripts" Installation arts(Sculptures, paintings, media arts, typographic arts, and so on) of 22 artists.
3) International Conference
24(FRI) Oct. – 26(SUN) Oct. 2014, 3 Days @5th Floor Main Rehearsal Room of Sejong Arts Group Building, Sejong Center
- Theme: "The ecology of scripts, reading the next 100 years"
*24(FRI) 10:00~17:20, 25(SAT) 9:00-18:20, 26(SUN) 9:30-12:10
4) Festival Participation Program
- Ancient scripts writing experience event, Printing world scripts engraving event, and "Scripts Stroll"
See the following links.
http://hyogirin.blog.me/220364013353
http://blog.naver.com/yangjunga7/220169804373
http://blog.naver.com/yoonbal2026/220165203373
http://blog.naver.com/harukun110/220175908420
http://blog.naver.com/2wolcabinet/220167950971
http://www.newsis.com/ar_detail/view.html?ar_id=NISX20141023_0013250211&cID=10201&pID=10200
세계문자 심포지아
세계문자 심포지아 2014 : 문자를 맛보다 "탁자, 의자, 문자"
작품명 : 탁본 책상
작가명 : 이 민하 + 정 희우
기간 : 2014년 10월 24일(금)~11월 2일(일) 10일간
장소 : 세종문화회관 야외 뜨락
재료 : 오래된 목재 책걸상 8세트, 시리아 문자, 몽골 문자, 티피나그 문자, 타밀 문자, 한글, 종이, 이집트 상형문자 고무 도장, 파피루스, 건탁용 먹, 크레용 등 탁본 재료
크기 : 가변 설치
오른쪽에서 왼쪽으로 또 위쪽에서 아래쪽으로 쓰이는 방향도 쓰여지는 방식도 우리글과는 다른 4가지 언어-시리아 문자, 몽골 문자, 티피나그 문자, 타밀 문자-가 만나서 하나의 형상을 만들어냅니다.
글자같기도 하고 이미지 같기도 한 형상을 보면서 이 문자들이 사용되는 지역을 상상할 수 있게 구상한 형상이고, 관객은 원하는 탁자의 이미지를 탁본으로 떠서 가져갈 수 있는 체험 프로그램입니다.
세계문자 심포지아 2014 개요
주최.주관 : 세계문자심포지아 2014 조직위원회, (사)세계문자연구소, 세종문화회관, 종로구
후원 : 문화체육관광부, 외교부, 서울특별시, KBS
행사소개
세계문자심포지아는 올해 처음으로 열리는 행사로서 '문자생태계 그 100년 후를 읽는다'를 주제로 하여 10일간 학술의 길 과 예술의 길 로 펼쳐집니다. 학술의 길은 각 국가별 학문어 언어정책을 다룰 국제학술대회로 진행되고 국내외 24명의 학자 및 교수가 참여합니다. 예술의 길은 세계의 다양한 문자들을 일반인들도 친근하게 접하고 참여하고 즐기는 예술 행사로써 세종문화회관 야외공간에서 진행됩니다. 인포그래픽전시, 공공예술 프로젝트, 미디어맵핑, 서울 문자 선언, 개.폐막식 공연, 문자보스등의 다채롭고 역동적인 축제의 장을 통하여 많은 사람들이 문자로 한바탕 놀아볼 수 있는 자리입니다.
프로그램
예술 행사는 크게 문자를 말하다/문자를 그리다/ 문자를 맛보다 세가지의 프로그램으로 구성되며 학술행사는 제 1마당 [문자와 세계각국의 학문어 문제] 제2마당 [문자와문자학의 세계]로 펼쳐집니다.
축제는 세종문화회관/야외공간을 중심으로하여 진행되며 개/폐막식 세계문자 부스등 10일간 시민들과 함께합니다.
[공식행사]
- 개막식 10월24일(금) 17시 30분 / 세종문화회관 뜨락
[예술 행사]
- 문자를 말하다 : 문자의 뜨락에서 만나는 명사와의 대화(매일12시30분~1시30분)
- 문자를 그리다 : 9개 인포그래픽 작품 야외 전시
- 문자를 맛보다 : 22명의 예술가 / 22개 설치작품/ 퍼포먼스
[국제학술대회]
-문자생태계, 그 100년 후를 읽는다
[시민 참여 행사]
- 고대문자 체험
- 세계문자 탁본 체험
다음 링크는 전시를 보신 분들이 작성하신 블로그들입니다. 행사의 전반적인 분위기가 잘 살아있습니다.
http://hyogirin.blog.me/220364013353
http://blog.naver.com/yangjunga7/220169804373
http://blog.naver.com/yoonbal2026/220165203373
http://blog.naver.com/harukun110/220175908420
http://blog.naver.com/2wolcabinet/220167950971
http://www.newsis.com/ar_detail/view.html?ar_id=NISX20141023_0013250211&cID=10201&pID=10200