CELL – Low, High and Narrow Room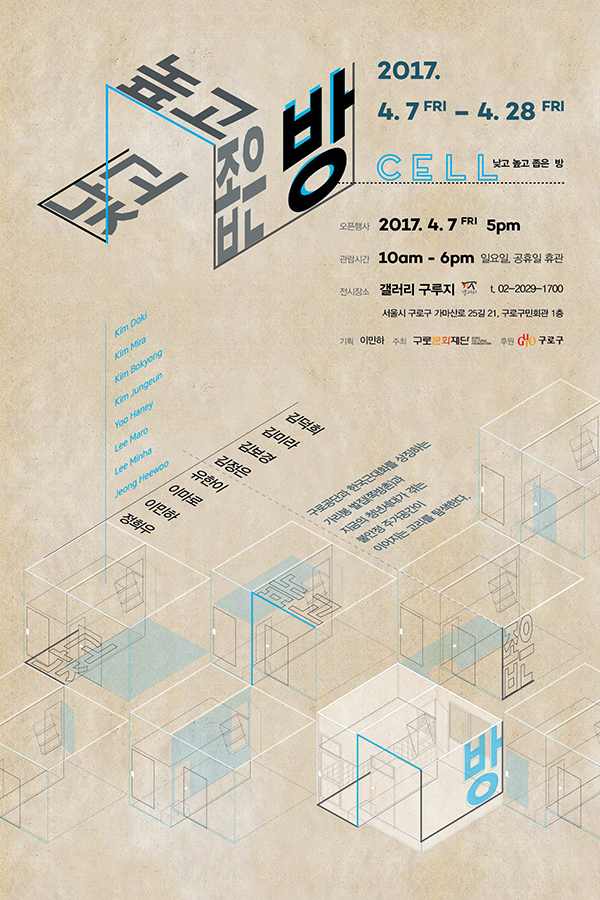 CELL
CELL
Title : CELL – Low, High and Narrow Room
Period : April 7 (Fri.) ~ 28 (Fri.) 2017 (19days)
Venue : Gallery Guruji, Seoul, Korea
Curated by Minha LEE
Organized by Guro Cultural Foundation
Supported by Guro Government, gallery ARTDock
Artists : Doki KIM, Mira KIM, Bokyong KIM, Jungeun KIM, Haney YOO, Maro LEE, Minha LEE, Heewoo JEONG
Foreword by Minha LEE
The colorful signboards occupied by the Simplified Chinese and the narrow, winding alleys, gave me, who was used to skyscrapers and landscape of apartment forest, the impression of visiting a small city in China. As a na- tive of Seoul, I was exposed to Garibong through a history tour of Guro Industrial Complex that was conducted for local research on community based art project with Guro residents in early fall of 2014.
1970s were growing period for Garibong with huge engine called Guro Industrial Complex, fueled by youth and dreams of young people who had just arrive in Seoul from the countryside. Burjip came into existence for tired workers who could not be accommodated into the factory dormitories. Burjip of Garibong were multi-unit dwelling, each unit with a narrow room, a low kitchen, and a long, narrow loft.
Burjip of Garibong, where the young factory girls grew their dreams working on sewing machines and going to night schools, declined in the 1990s along with Guro Industrial Complex. In 2000s, with the influx of Korean Chinese, foreign workers, and elders looking for cheap dwelling, Garibong became a place for them. Currently, even people living in Guro-gu find the place unfamiliar. Continued attention and efforts are necessary to re- member the history of Garibong, which embody the pain of industrialization, and resolve the meaning and value of this place through artistic approach.
The exhibition 'CELL' started from a curiosity about Guro Industrial Complex and Garibong Burjip, which sym- bolizes modernization in Korea, and examines the continued links of unstable living spaces, such as Gosiwon, experienced by today's young generation. The eight artists participating in this exhibition agree on problems that the theme embodies, and through research on Guro Industrial Complex and site visit of Garibong region, unfolds stories regarding 'Room' in their own ways.
At the entrance of the exhibition space, various names and chronological tables of unstable living spaces, such as Hakkobang and Roofingjip, are placed. The chronology shows that Burjip, which was created with the growth of Guro Industrial Complex, has structural similarities with Gosiwon, which appeared in the 1980s. Furthermore, it also briefly shows how Gosiwon becomes more and more advanced with the increasing uses by the office workers after IMF. Sequence of the exhibition moves from the works portraying realistic Garibong to innermost room containing more private and intimate works.
Jeong, Heewoo has been working on visualizing small symbols found in the urban space by making rubbed copies. In this exhibition, she enables viewers to estimate the specific structure of Burjip with rubbed copy of an actual Burjip in Garibong, showing size of a room, location of a window and three doors. The door on the left with overly used screen loosely tied is the main passage to the gate. Small door in front to the left, which one has to lower one's head to pass, is connected to a multi-purpose room, where the floor is lower than that of the main room with water supply. Slightly taller door in front to the right is connected to a coffin-sized narrow and long loft.
The exhibition title 'CELL – Low, High, and Narrow Room' is an expression that shows the actual structural characteristics of the room that Jeong, Heewoo made rubbed copies, and at the same time, is connected to the expression of residential problems of the younger generation that a sociologist Jung, Minwoo mentions in his book 'A Room of One's Own(2011, Imagine Books)'. He refers to unstable living spaces in the city, which are called in various ways, using adjectives such as low(semi-underground room), high(rooftop room), and narrow(Gosiwon). Even though there have been changes in naming such as Livingtel and Minitel, these spaces were not recognized as homes and remained out of the government's interest. These spaces, which are difficult to name as one, have been continuously created and neglected.
Kim, Jungeun uses the traces of her walking path to create the one and only map in the world. Through a passenger plane that she encounters by chance while walking around Garibong-dong, she tries to express a journey toward Garibong in the work titled 'self mapping : Garibong Burjip Flight'. She records the scenery, location, etc. of a place where she encounters the plane, which appears every 20~30 minutes. The present of Garibong is recorded with a subjective and personal viewpoint.
Kim, Mira attempts to identify what human beings can do as an 'individual' through visual arts with the use of industrial products and replica images as a medium. Big housing sale balloon placed along with full-colored signboards experienced in Garibong-dong clearly reveals the desire for the residential space in Korean society. The scenery of Garibong, where the historical strata of Seoul seem to have stopped at a certain moment, is broken down into various parts and indirect images and strangely combined with other objects.
Lee, Maro is an artist with mysophobiac and paranoiac tendencies, and represents the characteristics of today's young generation, who communicate with the world through web surfing. Even though it is difficult to commu- nicate in general, he firmly established his own world, and shows characteristics of a 'Room' as an extension of a body. 'Guro Tour' is a series of drawings that are drawn on over 30 meters of paper roll with images collected through web surfing. Obsessive, yet bold strokes show a part of him that meets with the world through drawing.
With 'Sacred and Profane' as the theme, Lee, Minha visualizes the research on humanness, and at the same time, engages in community based art projects in various regions. The slate roof covered with cement installed at the entrance of the gallery space is a scene of demolition and development at the same time. Borrowing a phrase from Paragraph 3 Article 35 of the Constitution, she recalls the unstable housing spaces that were not captured by the administration's radar. The room located inside with damp smell of Kongdem walls with tightly transcribed sample questions shows the reality of young generation, who are trapped in a square room.
Yoo, Haney is working on drawing a life that repeatedly changes and disappears through an architectural structure built by assembling small blocks. There exist special stairs that share the middle landing in two Gari- bong Burjips purchased by Seoul city. The artist collects and draws fragmented traces of life in these stairs that face each other. The 'Each Room' series emphasize the particularities of Burjip that has different door sizes and structures, and vibrantly express the life when there were dreams and hopes.
Kim, Bokyong has been working on installations that reveals the stories of the time and the events that exist between memory and reproduction. The protagonist of the work 'The Dim Landscape of Sune' comes to city with the hope of learning skills and settling in the city with the love. The deep and irregular creases on a surface of the work made by the artist's labor show exhaustion and intensity of a life that the protagonist had to endure. Canvases in different shapes are times of the scenes facing Sune's deep reflections, and darkly hung installation calmly reveals the remains that left those scenes behind.
Kim, Doki has mainly been working on installations with heat and light as materials. The artist interprets Guro In- dustrial Complex's dosshouse village, the symbol of modernization in Korea, as the womb of Korea as motherhood. Rapid modernization in the process of compressed growth. Using the space of womb as a medium for a dosshouse village, an unstable living space, and a passenger ship tragedy of 2014 born in the shadow of rapid modernization, the artist reveals dreams that people in those two spaces would have seen as objet and shadows. When audiences reach the innermost darkroom, they feel as if they are peeking into other's dreams or returning to the womb.
Each room in this exhibition is a structural device that induces the media of existing works of participating artists to be actively expressed, and reveals the consciousness on social problems that they have experienced and thought about naturally through works. The artists in late-30s and mid-40s, who have seen the benefits of the compressed growth of Korean society, review the residential problems of current young generation and thoughts on 'Room' through a filter called Garibong, and apply it in their works. Facing social problems that we encountered by witnessing many 'Rooms' that still does not have a name, we hope that these attempts for everyone to imagine together will continue in the future.
낮고높고좁은 방
낮고높고좁은 방
전시제목 : 낮고 높고 좁은 방
전시기간 : 2017년 4월 7일 (금) ~ 28일 (금), 19일간
전시장소 : 갤러리 구루지, 구로구민회관 1층, 서울
전시기획 :  이민하
주최 : 구로문화재단
후원 : 구로구청, gallery ARTDock
참여작가 : 김덕희, 김미라, 김보경, 김정은, 유한이, 이마로, 이민하, 정희우
전시서문 – 이민하
간체자가 점령한 화려한 간판들과 좁고 구불구불한 골목길은 고층빌딩과 아파트숲의 풍경에 익숙한 나에게 중국의 어느 소도시를 방문한 듯한 인상을 주었다. 2014년 초가을, 서울에서 나고 자라 서울토박이였던 나는 구로구 주민들과 함께한 공공미술 프로젝트의 지역 리서치를 위해 참가한 구로공단 역사 투어를 통해 가리봉을 접하게 되었다.
70년대의 가리봉은 구로공단이라는 거대한 엔진이 시골에서 갓 상경한 젊은이들의 청춘과 꿈을 연소하면서 성장하던 시기였다. 공장의 기숙사에 미처 다 수용되지 못한 지친 노동자들을 위해 벌집들이 생겨났다. 가리봉의 벌집은 좁은 방 한칸과낮은부엌,길고좁은다락이맞물린특징적인구조의방들이수십채가연결된공동주택이다.
어린 여공들이 미싱을 타고 야학을 다니면서 꿈을 키우던 가리봉 벌집은 90년대에 들어서 구로공단이 쇠퇴하면서 2000년대에 들어서는 값싼 주거지를 찾아 유입된 중국동포들과 외국인 노동자, 노인들을 위한 공간으로 바뀌었다. 지금은 구로구에 거주하는 사람들에게도 낯설게 느껴지는 곳이다. 산업화의 아픔을 간직한 가리봉의 역사를 기억하고, 이 곳의 의미와 가치를 예술적인 접근으로 풀어내려는 지속적인 관심과 노력이 필요하다.
이번 전시 '낮고 높고 좁은 방'은 구로공단과 한국 근대화를 상징하는 가리봉 벌집에 대한 호기심에서 출발하여, 고시원 등의 오늘날 청년 세대가 겪는 불안정 주거공간이 이어지는 고리를 탐색한다. 이번 전시의 참여작가 8명은 전시주제의 문제의식에 동감하며, 구로공단에 대한 자료를 조사하고 가리봉 지역을 답사하면서, 각자의 방식으로 '방'에 대한 이야기를 풀어냈다.
전시공간의 입구에는 하꼬방과 루핑집으로 시작되는 불안정 주거공간의 다양한 명칭과 연표가 배치된다. 구로공단의 성장과 함께 생겨난 벌집방은 80년대에 등장한 고시원과 구조적인 공통점을 보이고 있다. 연표는 고시원이 쪽방화 되는 과정과 IMF 이후 직장인들의 이용 증가로 인해 고급화되는 시점을 간략히 보여준다. 전시장의 초입은 현실적인 가리봉의 모습을 담은 방들로 시작하는데, 안으로 이동하면서 점차 사적이고 내밀한 방이 등장하는 순서로 배치되었다.
정희우는 도시의 공간에서 발견되는 작은 기호들을 탁본으로 어루만져 시각화하는 작업을 해오고 있다. 이번 전시에서는 가리봉의 실제 벌집방을 탁본해서 방의 규모와 창문 및 3개의 문의 위치를 통해 관람객으로 하여금 벌집방의 특수한 구조를 가늠해 볼 수 있게 한다. 사용감이 역력한 발이 엉성하게 묶여있는 왼편의 문은 대문으로 나갈 수 있는 주 출입구이다. 고개를 많이 숙여야 겨우 통과할 수 있는 정면 왼쪽의 낮은 문은 방보다 낮게 만들어진 수도가 있는 다용도실로 연결된다. 정면 오른쪽의 약간 높은 문은 관 정도 크기의 좁고 긴 쪽다락방으로 연결된다.
전시제목인 '낮고 높고 좁은 방'은 정희우가 탁본한 방의 실제 구조적 특성을 보여주는 표현이자, 사회학자인 정민우가 그의 저서 '자기만의 방(2011, 이매진북스)'에서 언급한 청년세대의 주거 문제를 드러내기 위한 표현과도 연결된다. 정민우는 낮고(반지하방) 높고(옥탑방) 좁은(고시원)이라는 형용사들로 다양한 명칭으로 불리는 도심 속 불안정 주거 공간을 지칭한다. 리빙텔, 미니텔 등 명칭의 변화는 있어왔으나 이러한 공간들은 집으로 인정받지도 못해왔고 정부의 시선 밖에 머물러 있었다. 하나로 명명하기 어려운 이런 공간들은 계속 탄생되고 방치되어 왔다.
김정은은 자신이 걸어다닌 길의 흔적을 활용해서 세상에서 하나 밖에 없는 지도 만들기를 해오고 있다. 가리봉동 일대를 돌아다니면서 우연히 조우한 여객기를 통해 가리봉으로 향하는 여정을 표현하고자 한 작품 'self mapping 가리봉 벌집 비행'은 2~30분에 한 대씩 등장하는 여객기와 마주친 곳의 풍경, 위치 등을 기록한 것으로, 주관적이면서 개인적인 시선으로 기록된 가리봉의 현재이다.
김미라는 공산품과 복제 이미지, 영상을 매체로 '개인'이라는 단위로써 인간이 무엇을 할 수 있는지의 의문을 시각 예술을 통해 확인하고자 한다. 가리봉동에서 경험한 총천연색 간판들과 함께 자리한 커다란 분양 풍선은 한국사회가 지닌 주거공간에 대한 욕망을 가감없이 드러낸다. 서울의 역사적 지층이 어느 한 순간에 멈춰있는 듯한 가리봉의 풍경들은 여러가지 사물과 간접 이미지로 분절되어 낯설게 다른 사물들과 결합한다.
이마로는 결벽증과 편집증적인 성향을 지닌 작가로 웹서핑을 통해 세상과 소통하는 지금의 청년세대의 특성을 대변한다. 일반적인 소통은 어렵지만 그 자신이 하나의 세계를 오롯이 구축하고 있으며, 신체의 연장으로서의 '방' 의 특성을 고스란히 보여준다. '구로탐방'은 웹서핑을 통해 수집한 이미지들이 30미터에 이르는 롤지에 걸쳐 제작된 드로잉 연작이다. 강박적이지만 과감한 선질은 그림을 통해 세계와 만나는 그의 한 단면을 보여준다.
이민하는 '성聖과 속俗'을 주제로 인간다움에 대한 탐구를 시각화하는 동시에, 주민참여형 공공미술 프로젝트를 각 지역에서 전개하고 있다. 전시장 입구에 설치된 시멘트로 덮여있는 슬레이트 지붕은 철거촌의 풍경이자 개발의 현장이기도 하다. 헌법35조 3항의 문구를 차용하여 행정의 레이더망에 포착되지 않았던 불안정 주거공간에 대해 환기시킨다. 안쪽에 위치한 방은 콩댐이 된 장판지의 꿉꿉한 냄새와 빼곡히 필사된 기출문제들로 사각의 방 안에 갇힌 청년들의 현실을 드러낸다.
유한이는 작은 블록들을 조립하여 만들어진 건축적 구조물을 통해 변화와 상실을 거듭하는 삶의 모습을 그리는 작업을 하고 있다. 서울시가 매입한 가리봉 벌집 두 채는 층계참이 붙어있는 독특한 계단이 존재한다. 작가는 이 마주보는 계단에서 파편화된 삶의 흔적을 채취하고 그려낸다. '각각의 방' 시리즈는 각기 다른 문의 크기와 구조를 가진 벌집방의 특수성을 부각시키면서, 꿈과 희망이 있었을 그때의 삶을 무지개색으로 표현한다.
김보경은 기억과 재현 사이에 존재하는 시간과 사건의 이야기를 드러내는 설치 작업을 해오고 있다. 작품 'The dim landscape of Sune'의 주인공은 기술을 배우고 짝을 이뤄서 도시에 정착하고자 하는 바램을 품고 시골에서 상경했다. 작가의 노동적 행위로 생겨난 작품 표면의 깊고 불규칙한 주름들은 주인공이 감내했어야 했던 삶의 고단함과 치열함을 보여준다. 서로 다른 모양의 캔버스들은 Sune의 깊은 사색과 마주한 풍경의 시간들이며, 어둡게 드리워진 설치작품은 그 풍경을 뒤로 하고 떠나온 잔재들을 담담히 드러낸다.
김덕희는 주로 열과 빛을 소재로 설치 작업을 해오고 있다. 작가는 한국 근대화의 상징인 구로 공단의 쪽방촌을 한국이라는 모태의 자궁이라 해석한다. 압축 성장 과정에서 겪은 급속한 근대화. 작가는 불안정 주거공간인 쪽방촌과 급속한 근대화의 그늘에서 태어난 2014년 여객선 참사를 자궁이라는 공간을 매개로 하여 두 공간에서 존재했던 이들이 보았을 꿈들을 오브제와 그림자로 드러낸다. 관객은 가장 안쪽 방에 마련된 암실에 들어가서 그들의 꿈을 엿보거나 태내로 회귀하는 듯한 경험을 하게 된다.
이번 전시에서 각각의 방은 참여 작가들의 기존 작업의 매체가 적극적으로 발현되고, 각자가 경험하고 생각해 온 사회문제에 대한 의식들을 자연스럽게 작품을 통해 드러내도록 유도한 구조적인 장치이다. 한국사회의 압축성장의 혜택을 본 30대 후반~40대 중반의 작가들이 지금의 청년 세대의 주거 문제와 '방'에 대한 생각들을 가리봉이라는 필터를 통해 바라보면서 작품을 통해 녹여냈다. 아직도 이름을 얻지 못한 많은 '방'들을 통해 우리가 봉착한 사회문제와 마주하면서, 모두가 함께 상상해 보기 위한 이러한 시도가 앞으로도 지속되기를 바란다.
低く高く狭い部屋
低く高く狭い部屋

タイトル : 低く高く狭い部屋
展示期間 : 2017年 4月 7日(金) ~ 28日(金)、19日間
展示場所 : ギャラリー•グルジ、 九老区民会館一階、ソウル、韓国
展示企画 :  イ•ミンハ
主催 : 九老文化財団
後援 : 九老区庁、gallery ARTDock
参加作家 : キム•ドキ、キム•ミラ、キム•ボキョン、キム•ジョンウン、ユ•ハニ、イ•マロ、イ•ミンハ、ジョン•ヒウ
序文、イ•ミンハ