Art Rail Construction Project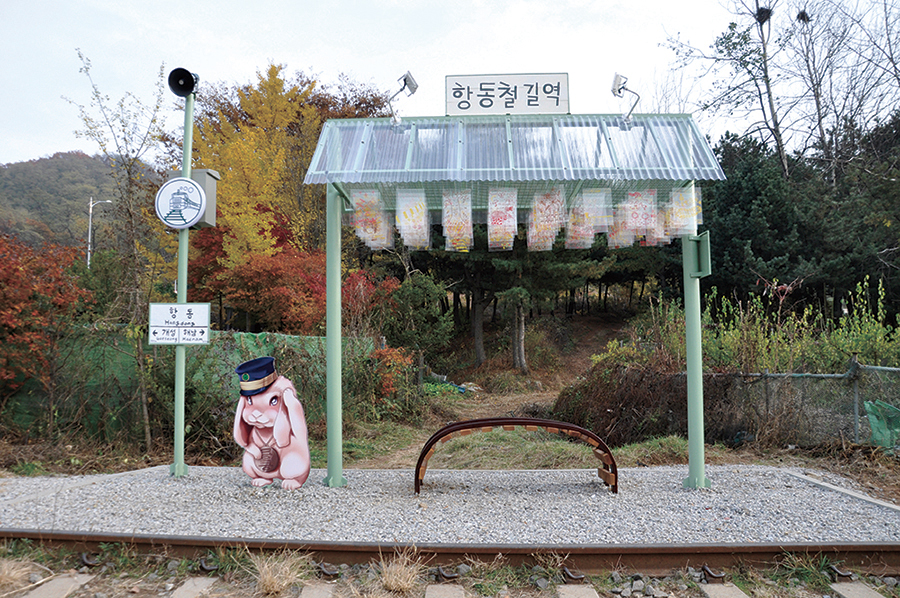 Art Rail
2015 Art Rail Construction Project
Title : Hangdong Whistle Stop
Period : November 7 (Sat.) 2015 ~ ongoing
Venue : Hangdong Railroad in Guro-gu, Seoul, Korea
Organized by Guro Cultural Foundation
Sponsored by Ministry of Culture, Sports and Tourism
Art Director : Minha LEE, Assistant Director : Myungho KIM
Gurohangari_Community Member : Soon-Kyung KWON, Kyung-Ja KIM, Seung-Hoon KIM, Ha-Jin YEO, Young-Myo YOON, Young-Soon LEE, Yoon-Hee LEE, Jee-Sun LEE, Hyang-Mi LEE, Dong-Cheol LIM, Se-Bin LIM, Ji-Min LIM, Gi-Woong LIM, Kyung-Min JANG, Ji-Hyun JANG, Kyung-Joo JEON, Ji-Yoon JUNG, In-Soon CHOI, Seok-Pyo HONG, Soo-Kyung HONG, Hyun-Sook HWANG
Support : Ha-Yoon JO, Duck-Jin KIM
Plan Drawing_Catalog Design : Doki KIM
Filming & Editing : KyungHo SOHN
Material : Painting on Steel Frame, Solar Power Panel, Lighting 2 pieces, Circular Sign, Amplifier, Megaphone, Chronopher, Railway Shaped Bench 2 pieces, Standing Signboard-Stationmaster Character 'KungKungYi', Acrylic Sheet 72 pieces, Paint Marker etc.
Size : (w)4.5x(d)1.5x(h)3.5m
Overview
The Hangdong Railroad, stretching for 4.5 kilometers from Oryu-dong, Guro-gu to Okgil-dong, Bucheon-si, Gyeonggi-do, was constructed in 1959 by the the Gyeonggi Chemical Industry and Technology for the purpose of transporting their products and raw materials to the Seoul-Incheon area. Currently serving as an intermittent means of transporting military supplies, the Hangdong Railroad has emerged as a popular hiking trail through word of mouth. Many visitors come to the railroad to take a long walk as they re ect on their lives and become absorbed in mediation.
Under the support of the Ministry of Culture, Sports and Tourism, We embarked upon the Art Rail Project with the intention of reinventing the Hangdong Railroad as an art rail through collaborative effort with local residents. The railroad cutting across the city had been increasingly abandoned in recent years.
In order to bring together the artistic capacity of the foundation and the creative talent of the community, we held several roundtable discussions. Rather than pursuing urban comfort, our aim was to have the city regener- ated at the hands of local residents by collaborating with artists. As a result, the Hangdong Railroad Whistle Stop, a structure in the form of a temporary railroad station, was installed successfully.
We promise to continue our endeavor at urban regeneration next year, starting with the railroad next to the old Dongguk Steel that is in urgent need of environmental improvement. Lastly, our heartfelt thanks go to artists Minha Lee and Myeong-ho Kim as well as the members of the Guro-Hangari for their creative willpower.
See the following video documentation link.
https://www.youtube.be/jWpX7U1HKqM
https://www.youtube.be/2o2nvq4pVs4
항동철길
2015 항동철길 아트레일 프로젝트
작품명 : 항동철길 간이역 조형물
기간 : 2015년 11월 7일(토)~현재 상설전시 중
장소 : 항동철길 내, 서울시립 푸른수목원과 구로 올레길의 교차점
주최 : 구로문화재단 문화정책팀
후원 : 문화체육관광부
예술감독 : 이민하, 조감독 : 김명호
구로항아리 : 권순경, 김경자, 김승훈, 여하진, 윤영묘, 이영순, 이윤희, 이지선, 이향미, 임동철, 임세빈, 임지민, 임지웅, 장경민, 장지현, 전경주, 정지윤, 최인순, 홍석표, 홍수경, 황현숙
협력 : 조하연, 김덕진
입체도_도록 디자인 : 김덕희
영상촬영 및 편집 : 손경호
재료 : 철골 구조물에 도장, 태양열 패널, 서치 조명 2개, 원형간판 1개, 확성기, 엠프, 철길모양 벤치 2개, 킁킁이 역장 캐릭터 입간판 1개, 아크릴판 72매, 페인트 마커
크기 : (w)4.5x(d)1.5x(h)3.5m
개요
서울시 구로구 오류동에서 경기도 부천시 옥길동으로 이어지는 4.5km의 항동철길은 1959년 경기화학공업주식회사가 원료와 생산물을 경인지역으로 운반하기 위해 부설한 철로입니다. 현재는 부정기적으로 군수물자를 운반하는 수단이 되었지만 어느덧 항동철길은 걷기 좋은 명소로 사람들 사이에서 입소문이 났습니다. 철길을 걸으며 삶을 되돌아보고 사색에 잠기는 공감의 장소로 자리매김하고 있습니다.
저희는 도심 속을 관통하는 철길을 지역 주민과 함께하는 협력예술을 통해 폐철로화 되어가는 항동철길을 예술철길로 조성하고자 문화체육관광부의 후원을 받아 Art Rail 조성 프로젝트를 실시했습니다. 이번 사업에서는 재단의 문화예술적 역량과 주민의 창의력의 접점을 찾기위해 수차례 네트워크 테이블을 진행했습니다. 행정의 영역에서 도시의 쾌적성을 찾기보다는 주민 스스로 도시를 재생할 수 있도록 예술가와 협업한 결과, 간이역 형태의 조형물인 '항동철길역'을 조성하게 되었습니다. 내년도에는 환경개선이 시급한 (구)동국제강 옆 철로를 무대로 지속적인 도시재생사업에 일조하겠습니다. 함께해 주신 이민하, 김명호 작가와 주민 커뮤니티 '구로항아리' 여러분의 창작 의지에 깊은 감사를 드립니다.
아래 링크에서 기록 영상을 보실 수 있습니다.
https://www.youtube.be/jWpX7U1HKqM
https://www.youtube.be/2o2nvq4pVs4
アート•レール
2015 アート•レール造成プロジェクト
作品名 : 航洞鉄路 簡易駅 造形物
期間:2015年11月7日(土)〜現在、常設展示中
場所:航洞鉄路内、ソウル市立プルン樹木園と九老オルレの交差点、韓国
主催:九老文化財団
後援:文化体育観光部
芸術監督:イ•ミンハ、助監督:キム•ミョンホ
グロハンアリ_コミュニティ•メンバー:クォン•スンキョン、キム•キョンザ、キム•スンフン、ヨ•ハジン、ユン•ヨンミョ、イ•ヨンスン、イ•ユンヒ、イ•ジソン、イ•ヒャンミ、イム•ドンチョル、イム•セビン、イム•ジウン、ジャン•キョンミン、ジャン•ジヒョン、ジョン•キョンジュ、ジョン•ジユン、チョイ•インスン、ホン•ソッピョ、ホン•スキョン、ファン•ヒョンスク
材料:二合韓紙へ膠引きとコンデム、天然染め(薑黃、薬艾、五倍子、柴草、藍、梔子、紅花、黃柏など)、木材、ポリカーボネート、窓枠などのオブジェ、LED電球50個
サイズ:(w)4.5x(d)1.5x(h)3.5m
概要
ソウル市九老区梧柳洞から京畿道富川市玉吉洞まで繋ぐ4.5kmの航洞鉄路は、1959年京畿化学工業株式会社が原料と生産物を京仁地域へ運ぶ為に敷設した鉄路です。現在は、不定的に軍需物資を運送する手段になりましたが、いつの間にか航洞鉄路は、歩きたい名所として人たちの間で口コミが出ました。鉄路を歩きながら、人生を振り替えて見たり、思索に沈潜する共感の場所として位置づけられています。
私たちは、都心の中を貫通する鉄路を地域住民と一緒にコミュニティ•アートを通じて、廃鉄路化していく航洞鉄路をアート•レールとして造成しようと思い、文化体育観光部の助成金を受け、アート•レール造成プロジェクトを実施しました。今回の事業では、財団の文化芸術的力量と住民の創意力の接点を探るため、数回のネットワーク会議を開きました。行政の領域で都市の快適性を探すより、住民が自ら都市を再生できるよう、アーティストと協業した結果、簡易駅の形の造形物である「航洞鉄路駅」を制作しました。
来年は、環境改善が必要な旧東国製鋼側の鉄路を舞台に持続可能な都市再生事業になります様に努めます。指揮してくださいましたイ•ミンハ、キム•ミョンホ作家さんと住民コミュニティ「グロハンアリ」の皆様の創作意思に心から感謝いたします。
以下のリンクで、記録映像をご覧いただけます。
https://www.youtube.be/jWpX7U1HKqM
https://www.youtube.be/2o2nvq4pVs4